We live in a world where geekdom is at the forefront of pop culture and mainstream media.  It is the greatest time in history to be a geek.  Yet, there are many missteps along the way that we would love to take back.  More than a few of Fox's X-men films have been duds, Batman v. Superman and the rest of the DCEU have been at the very least a disappointment, and minority voices are often extinguished through questionable casting and direction.  For many properties this is truly the "blackest night".  
However, every avid comic book fan out there knows the concept of infinite timelines.  Somewhere out there your greatest disappointment is geek culture's greatest success.  Here at Geek 101 let's take a look at some alternate universes where our failures are successes.  A universe that's experiencing it's Brightest Day.
***Disclaimer:The events described in Brightest Day articles are completely fictional***
Iron Fist
Marvel's Netflix shows are coming off of unprecedented success.  Daredevil is a critical darling to both fans and professionals.  Daredevil's Vincent D'Onofrio, Jessica Jones's David Tennant, and Luke Cage's Mahershala Ali are all coming off of Emmy nominated performances.  The Marvel Netflix model is proving as influential and impactful as the MCU films.  But!  Before we can get to Netflix's Avengers style team up, The Defenders, we need to be introduced to one more character, Iron Fist.
Marvel is playing it smart.  It took four years for the MCU to reach the Avengers and even then it was a risk.  They exercise patience and sensibility by bringing in Daredevil's showrunner Steven DeKnight after he finishes his passion project, Pacific Rim 2.  On his team he recruits filmmaker and martial artist Lexi Alexander, most famous for fan favorite film Punisher War Zone, as a producer.  Alexander has the perfect blend of passion for martial arts and comic book film know-how to help make Iron Fist what it deserves to be.
The casting for Danny Rand/Iron Fist is a big topic around the news cycle.  Each Netflix property has a dynamite lead actor to headline their respective shows.  Another important distinction behind the Iron Fist show is that it's a property deeply rooted in martial arts and Asian culture with a canonically white lead actor.  Ultimately, the show decides to go with an Asian lead despite backlash from many firearm experts (CANON!).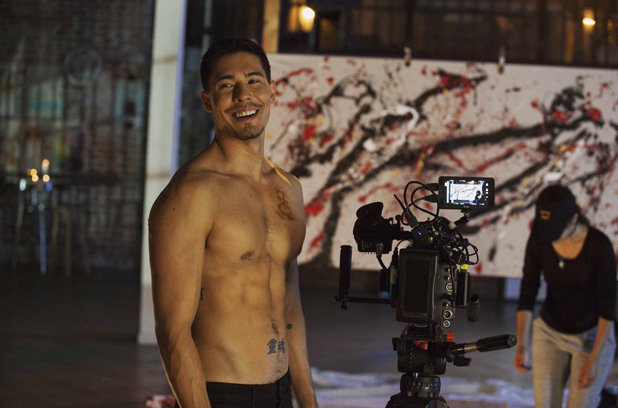 But the question remains, who do they cast?  The show-runners recognize that a character like Iron Fist needs to display what it means to be a kung fu master on screen.  They can't just cast anyone.  A normal actor can't just get in shape and pick up martial arts in say, six weeks.  A role like this takes serious dedication and an ability to pick up choreography quickly while also believably performing it with stunt men.  The coveted role of Danny Rand goes to Half-Chinese actor Lewis Tan.  
Tan has the requisite build, physicality, and martial arts prowess to make Danny Rand look like a living weapon.  Tan, like most minority actors, has suffered through type casting and poorly written roles for years and finally gets the big break he worked so hard for.  Deknight brings in the excellent stunt team he used for Daredevil as well as expert choreographers from across the world to give us a martial arts extravaganza.
The show has many other hidden gems and established actors in it's cast.  Jessica Henwick's Colleen Wing is a strong, fierce warrior and teacher that Danny comes across when he makes his way back to New York.  Sean Bean and David Wenham reprise their familial relationship but this time as father and son, Harold Meachum and Ward Meachum respectively.  Rosario Dawson however takes a break from her Netflix series appearances; there are only so many vigilante run-ins one person can take.  
Iron Fist can't just be a show that has good fights on screen; there has to be more.  Daredevil was about guilt and fighting against gentrification, Jessica Jones took a hard look at abuse and PTSD, Luke Cage was about being a bulletproof black man in today's America.  With Lewis Tan at the helm, Iron Fist became about identity.  Danny Rand is an Asian-American kid who doesn't feel like he belongs; especially among the predominantly white NYC elite.
With this new theme in tow we see ten year old Danny Rand go on a trip to China with his family.  However, after a terrible crash Danny, the sole survivor, wakes up in the mystical city of K'un Lun.  He discovers that his ancestors are from this city hidden in the another realm.  He soon learns that even in his home city and among those who share heritage he is an outsider.  After years of working his way to become their greatest fighter Rand earns the mantel of Iron Fist.  With this he believes he's found his purpose and identity only to find out he's now destined to be a tool for K'un Lun, their living weapon.  Not only that but he has to come to grips that even the role of Iron Fist was a title and power given to dozens over the years.  He is simply another notch in hundreds of years of K'un Lun history.  Like so many young Asian Americans in the world, Danny Rand is a man of many worlds yet comfortable in none.  
Iron Fist releases around the time we get an amazing all-Chinese cast monster fantasy flick The Great Wall and Ghost in the Shell starring Rinko Kikuchi.  Asian inspired films and properties starring Asians and AsAms are thriving.  Lewis Tan and Jessica Henwick are charming and inspiring in their first chances at lead roles in television.  The world looks forward to the Defenders project and the great chemistry between Lewis Tan's Danny Rand and Mike Colter's Luke Cage.  The  MCU Netflix model goes strong and geeks bask in the glory of their newfound mainstream status.