Since 1937, Disney has been the gold standard for excellence in animated films.  There have been some challengers across the years like Dreamworks and Laika but every child's animated nostalgia leads back to Cinderella's castle.  In recent years, Disney has attempted to diverge from their formula of the pretty white princess set in some unnamed European country.  Their latest attempt?  Moana.
Disney's Moana follows the titular character as she attempts to heal her island by taking the demigod Maui on a journey to fix the mess he orchestrated a thousand years prior.  The unlikely duo go through treacherous waters and combat fantastical monsters on their noble quest to return a magical stone.  Auli'i Cravalho, the actress behind Moana, does a wonderful job in emoting and singing throughout the film.  Dwayne "The Rock" Johnson was a no brainer for the demigod Maui.  Who better to portray a buff, confident, and powerful immortal?  
No traditional Disney movie is complete without a  killer soundtrack.  Moana had a tough task in following hits such as Frozen and Tangled.  However, in my opinion, Moana's music blows them out of the water.  Not only are the songs more creative and expertly performed but they also face a level of cultural difficulty that most Disney films don't have to worry about.  Composer Mark Mancina must be acknowledged for this brilliant score.  I am no expert of Islander music but the songs certainly pass the smell test and Disney was very respectful of the culture they were representing by hiring the proper people behind the compositions.

Lyrically, Moana holds up with even the best of Disney films.  The lyrical genius behind the quick-witted, fast spittin rhymes?  Emmy, Tony, and Grammy (and *fingers crossed* future Oscar) award winning writer Lin-Manuel Miranda.  If you don't recognize the name surely you'll recognize his masterpiece, Hamilton: The Musical.  Disney was able to book the hottest writer on the market and the lyrics and rhythm shine because of it.  Along with strong lyrics and beautiful compositions, Moana gifts us with great performances from Aui'li Cravalho, Lin-Manuel, The Rock, Christopher Jackson (who portrayed Washington in Hamilton: The Musical) and a quirky little number from Flight of the Conchord's Jemaine Clement.  Moana boasts Disney's best soundtrack since the golden age of the 90's.
Unlike most of Disney's films, on camera Moana is filled with people of color.  For some studios this fact would have been enough to satisfy calls for "diversity" but thankfully Disney didn't stop there.  All of the main cast members have backgrounds in Pacific Island ancestry; Samoa, New Zealand, Hawaii, and The Philippines to name a few.  In fact, the only caucasian among the main credits is Alan Tudyk! (who plays the silly chicken Heihei, forgivable).  Now this may not seem like a big deal to many reading this but trust me and others when we say that representation is a big deal.
On that thought of representation, allow me to get a little personal.  Moana was probably the first major motion picture featuring a people group that looked like me and my family.  Let that sink in.  In my 26 years of existence I have yet to culturally connect with a film like I have with Moana.  As a Filipino-American, I admit to have done some cultural piggy-backing.  Many of the Polynesian customs that are famous among Westerners are from countries other than my own but I can't help feel some solidarity knowing that my people were also island-faring voyagers and that some even recognized the demigod Maui.  No matter what Disney was trying to accomplish with this film, I came away awed that I was able to see a Disney film featuring people that looked like me that spoke a language that sounded like that of my ancestors.  I hope that this film connects with young people of Pasifika descent and inspires them to enjoy and make art.
There have been some criticisms regarding Moana and it's portrayal of Pacific Islanders.  One of which is that they have taken short cuts and mashed up some cultures and languages.  This complaint has to be acknowledged as those who make it know better than I.  Disney tends to cater to the greatest common denominator and as I mentioned before, the fact that it was mixed allows several different Pacific Islanders to relate to it deeper than if they specified.  Right or wrong, that was what I took away from the film.

The other major criticism behind Moana was the design behind the demigod Maui.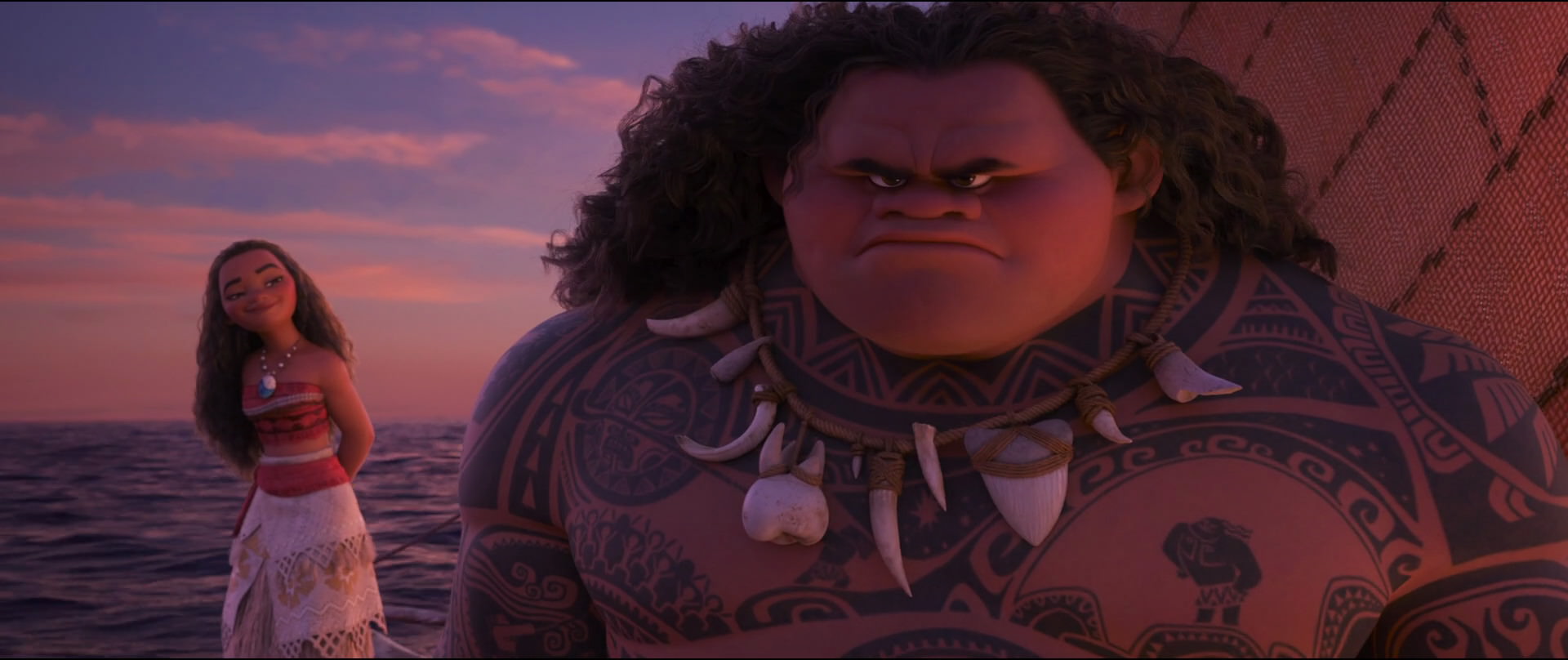 Maui's design is reminiscent of the sidekick and not a hero.  In fact, take a look at how much more Maui's features have in common with skunking Lefou than the striking Gaston.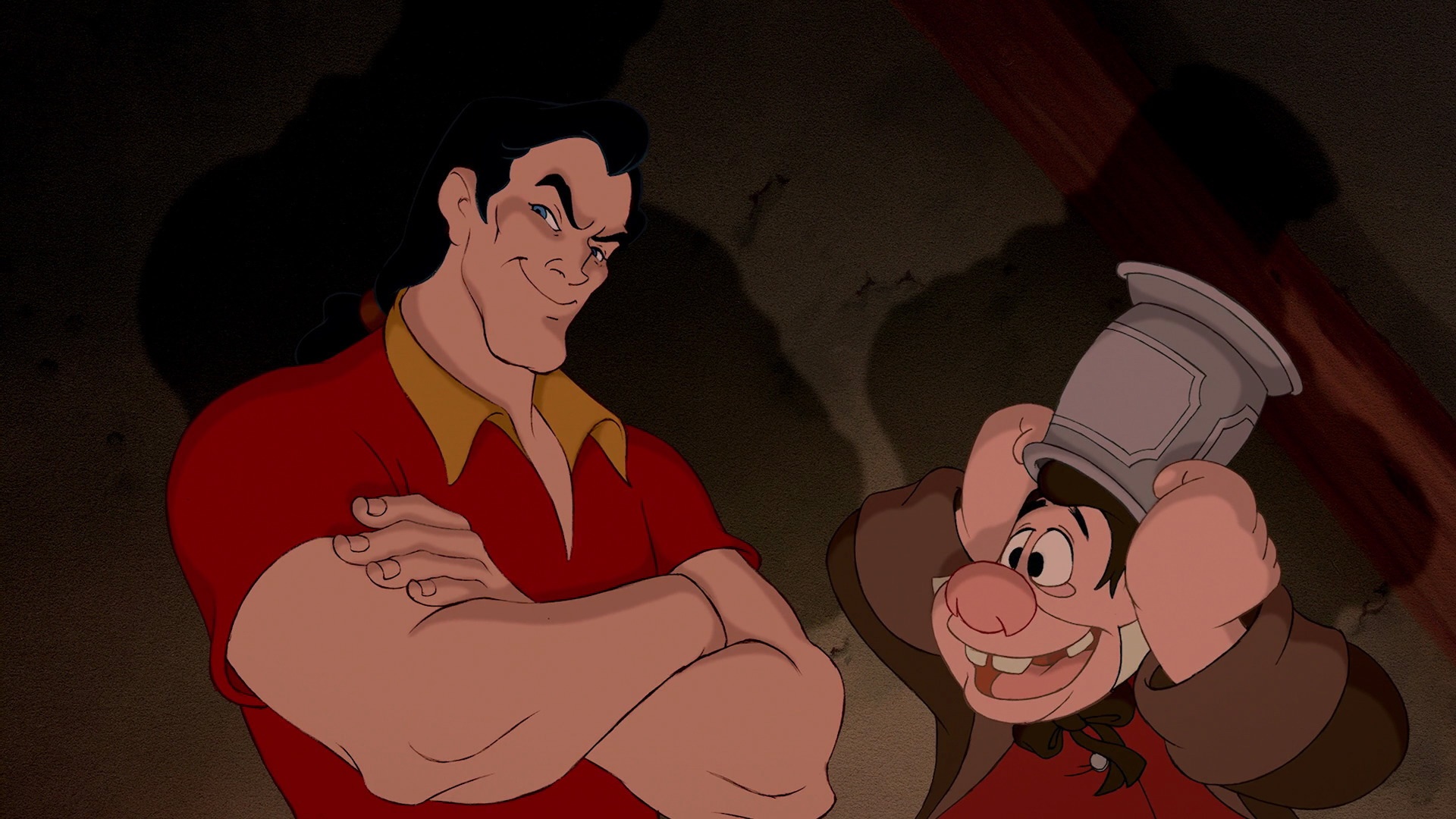 Maui can be seen as the Pacific Island's version of Hercules!  It's not like there isn't a perfectly sculpted real life figure to use as inspiration for Maui..OH WAIT HE'S VOICED BY THE ROCK.  It's frustrating that in a film that does so much for people of color they failed in creating an Polynesian and a man of color that fits the mold of hero.  If the Rock can do it in real life, Disney could have done it on the computer screen.  
Putting aside all the cultural significance behind such a film, Moana excels in traditional Disney storytelling.  Moana is a perfect role model for girls as she both follows her heart and does her duty; she displays courage and a love for her family that rivals any previous "princess".  The film is visually fantastic.  The creature designs and oceanic set pieces are stunning.  I know i've said it plenty, but the music is really top notch.  The way the animation and music intertwine is masterful.  The climax of the film is chock full of action and emotion; let's just say that the theater may have gotten a little misty eyed.  The films directors, Ron Clements and John Musker, are behind such masterpieces as The Little Mermaid, Hercules, and Aladdin.  With the help of a group of culturally knowledgeable individuals known as the Oceanic Story Trust, they were able to make another masterpiece to add to Disney's trophy case.  
A+